As of Monday 15 June the studio of the Teaching & Learning Lab is open for reservation!
In the Teaching & Learning Lab studio you can record knowledge clips, short videos, webinars or other videos for your lessons. You can do this with assistance from an operator. Due to the coronavirus the Do-It-Yourself studio is closed.
Professional recordings with operator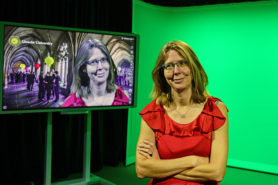 An operator will assist you with the recording, make the recording with a professional camera and lighting and will do the video montage right away or at a later time. In addition to a simple recording with a white or standard background it is also possible to make recordings using a green screen or a light board.
Example video light board recording
Further explanation about how the use and application of light boards can be found on the Educate-it webpage.
Before the recording you will need to apply for an account on MyMediasite.  UU staff and students cannot book the DIY studio due to the coronavirus.  University staff can check the availability of the studio via Outlook (Buys Ballotgebouw 3.25). To reserve the studio, please fill in the booking form.
If you have any questions, please send an e-mail to tll.studio@uu.nl.
Want to know more?
Do you want to know more about the best way to enrich your lessons with knowledge clips or short videos? You can read more on the Educate-it knowledge clips and E-lectures page. See our good practices page for examples of knowledge clips.