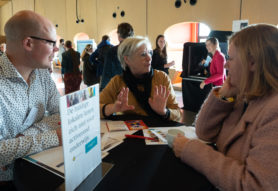 Come to the Autumn Festival of the Teaching & Learning Lab on Friday November 27, 2020 in Utrecht. The theme is Teaching every student, using distance learning, augmented & virtual reality.
The TLL Autumn Festival is for everyone who feels involved in the renewal and improvement of secondary and higher education.
At this moment the program is not yet known. More news about the program will be announced during the year.
Do you want to stay up to date? Let us know via teachinglearninglab@uu.nl or sign up for our newsletter.
Impression of the Autumn Festival 2019: