News
Results of TLL activities in 2019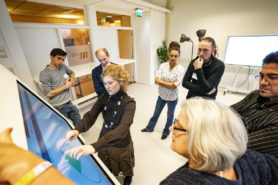 The results of all activities that took place in the Teaching & Learning Lab (TLL) were published in the 2019 annual report. Last year, the TLL's lecture/experimentation rooms were again well used. From courses (13), training and workshops (more than 40) to festivals, an escape room for teachers and education by U-Talent to secondary education students (40 lessons). Teachers used the TLL's flexible furniture and equipment such as interactive whiteboards, an interactive wall, short-throw beamers, observation cameras and a 360-degree camera.
The virtual classroom was opened last November by Annetje Ottow (vice-chair of the Executive Board) and Isabel Arends (dean of the Faculty of Science). In the virtual classroom, 36 students can attend a lecture live, with a high degree of interactivity due to all the technical facilities for meetings.
No fewer than 39 knowledge clips were recorded in the studio with the lightboard, as well as 29 clips without a screen and 7 with a green screen. The studio has also been used for webinars, media training and student projects.
Read more in the 2019 TLL annual report