Vrijdagmiddag 30 november namen ruim 200 docenten, studenten, scholieren, vertegenwoordigers van bedrijven en onderwijsinstellingen deel aan het derde Herfstfestival van het Teaching & Learning Lab. Samendrommend in de hal van het Koningsbergergebouw hoorden zij hoe Isabel Arends, decaan Bètawetenschappen en Judith Tielen, Tweede Kamer (VVD), het belang van onderwijsinnovatie onderstreepten. Op de informatiemarkt presenteerden bedrijven uit de regio hun digitale tools.
Deze tools waren al eerder onderwerp van gesprek, in de inspiratiebijeenkomst over zinvol digitaliseren die voorafgaand aan het festival plaatsvond. Bedrijven lieten een zestal tools zien (Faculty of skills, Drillster, Grasple, Liftov, Digitale microscopie en Feedback fruits), waarna de deelnemers met elkaar in gesprek gingen over wat voor digitale tools ze toe zouden willen voegen aan hun onderwijs en wat ervoor nodig is om onderwijsinnovaties serieus van de grond te krijgen.
's Middags konden de deelnemers kiezen uit een zeer divers aanbod van bijna 40 workshops. Zo was er een workshop waarin de invloed van de lesruimte geanalyseerd werd. Uit onderzoek blijkt dat het academisch vermogen aanzienlijk verbetert als de ruimte aansluit bij wat een student moet leren. Verschillende mogelijkheden en kenmerken van ruimtes werden besproken. Ten slotte maakten de deelnemers een ronde langs een aantal ruimtes op de campus, om te zien of de kenmerken van deze ruimtes aansluiten bij de beoogde doelen ervan.
Op het festival konden deelnemers ook praktisch aan de slag, bijvoorbeeld met het maken van een Augmented Reality-app. Hun gereedschap: een simpel instapmodel, de HP Reveal app. Met behulp van deze app maak je een foto van dat wat 'scanbaar' moet zijn (de trigger) waaraan je een laag aan koppelt die verschijnt als je leerling de trigger scant met zijn/haar mobieltje. Je kunt dan bijvoorbeeld een foto, video, audio of 3D-model toevoegen. In een andere workshop, geleid door middelbare scholieren van het Amersfoortse Corderius College, programmeerden deelnemers een robotautootje, Leaphy, dat daarna kon rijden en zelfs obstakels vermijden. Er was verder volop gelegenheid om te oefenen met didactische ICT-tools en het opnemen van kennisclips.
Zelfs Harry Potter passeerde de revue. Magie en wetenschap blijken veel met elkaar gemeen te hebben. Om de Pottermagie goed te kunnen beschrijven had auteur JK Rowling zich verdiept in de scheikunde. Deze workshop belichtte een aantal scheikundige en historische aspecten uit 'Harry Potter en de Steen der Wijzen', evenals de overeenkomsten en verschillen tussen magie en wetenschap.
De volgende aflevering van het Herfstfestival zal deel uitmaken van de Dutch Smart Education Week, een initiatief van kennisinstellingen voor hoger onderwijs in de regio Utrecht.
Het Herfstfestival werd georganiseerd door het Teaching & Learning Lab en Educate-it, in samenwerking met het Centre for Academic Teaching. De workshops werden verzorgd door docenten en studenten van de Universiteit Utrecht, het ROC Midden Nederland, Hogeschool voor de Kunsten Utrecht, de Hogeschool Utrecht en scholen en bedrijven uit de regio Utrecht.
TLL Herfstfestival 2018 in NVOX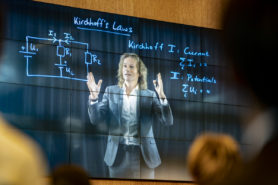 In de NVOX (2019, nummer 3) is een artikel over het TLL Herfstfestival 2018 verschenen. In dit artikel worden vier voorbeelden van onderwijsinnovaties uitgelicht: de kracht van de ruimte, zelf een AR-app maken, het robotautootje Leaphy en zinvol digitaliseren. Bekijk het artikel (pdf).
Bekijk ook de foto-impressie van het Herfstfestival.
Programma Herfstfestival 30 november 2018
11.00 – 12.30 uur: Voorprogramma: Interactieve inspiratiebijeenkomst 'zinvol digitaliseren'
12.00 – 13.00 uur: Inloop, lunch & informatiemarkt
13.00 – 13.30 uur: Opening
13.30 – 14.30 uur: Werkgroep ronde 1
14.45 – 15.45 uur: Werkgroep ronde 2
16.00 – 17.00 uur: Werkgroep ronde 3
17.00 – 18.00 uur: Afsluiting – Borrel met muziek The Medium Bangers
---
11.00 – 12.30 uur: Voorprogramma: Interactieve inspiratiebijeenkomst zinvol digitaliseren (NL)
Er wordt veel gesproken en gedacht over digitalisering binnen het onderwijs. De techniek is veelbelovend, maar het is ook vaak moeilijk om onderscheid te maken tussen 'gadgets' en de toepassingen die waarde toevoegen. Toch zijn al de nodige effectieve innovaties ontwikkeld. De vraag is of die wel voldoende gezien worden. Ook is de vraag hoe bedrijven die waardevolle nieuwe toepassingen ontwikkelen, hun toepassingen kunnen testen, valideren en op grotere schaal toe kunnen gaan passen. In deze interactieve sessie willen wij de brug slaan tussen de innovatieve bedrijven en de docenten, beleidsmedewerkers en bestuurders. Door inspiratie te bieden en met elkaar het gesprek aan te gaan over hoe zinvolle digitale toepassingen wél goed kunnen landen in het onderwijs.
---
12.00 – 13.00 uur: Inloop lunch & informatiemarkt
13.00 – 13.30 uur: Opening
Isabel Arends (decaan Faculteit Bètawetenschappen, Universiteit Utrecht)
Ralph Meulenbroeks (docent, Universiteit Utrecht)
Judith Tielen (tweedekamerlid, VVD)
---
13.30 – 14.30 uur: Werkgroep Ronde 1
14.45 – 15.45 uur: 
Werkgroep 
Ronde 2
16.00 – 17.00 uur: Werkgroep Ronde 3
---
Doorlopend programma: Visualizations in mathematics teaching
By: Anna Shvarts & Rosa Alberto (University Utrecht)
How to let students experience mathematics with their body? We provide interactive
examples on a Learning Table and Interactive Whiteboard: explore simultaneously a
unit circle and sinus graph, experience diverse functions and proportions with your
hands.
---
Meer informatie
Datum: vrijdag 30 november 2018 vanaf 11.00 tot 18.00 uur
Locatie: Koningsberger en Buys Ballotgebouw, Utrecht Science Park, toegang via Koningsbergergebouw (Budapestlaan 4a-b, 3584 CD Utrecht)
Voor wie: Docenten, studenten, scholieren en iedereen die geïnteresseerd is in innovatie van voortgezet en/of hoger onderwijs.
Aanmelden: Gratis, vooraf aanmelden voor werkgroepen (inschrijving gesloten).
Foto's: Ivar Pel