News
As of 15 June you can record clips in the Teaching & Learning Lab studio again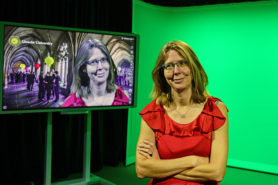 Since June 15, the studio of the Teaching & Learning Lab is open for teachers of Utrecht University who want to record clips. The studio focuses primarily on teachers from the Faculty of Science and for UU-teachers who want to use the transparent lightboard. Other UU-teachers can visit the studio at the Bolognalaan.
In the TLL studio you can record a knowledge clip with a green screen as background or standing behind a lightboard on which you can draw. Other arrangements are also possible. The clips are recorded and edited by a cameraman.
Interested? Register to record a clip; we will then contact you. On the same webpage, you will find more information about recording a clip, reservation, and how to contact us.
The studio is located in the Buys Ballot building, room 3.25.