Agenda
27 - 30 January 2020
Several locations in the city centre, the UCU campus, Utrecht Science Park and online
Strengthen-Your-Education-week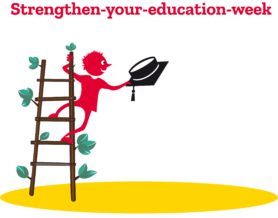 On 27 January, the strengthen-your-education-week will start with a diverse and wide range of activities aimed at strengthening and innovating your education. The programme is now online with numerous workshops, lunch meetings and tailor-made advice, organised by the partners of the Centre for Academic Teaching.
The programme is of interest to all UU teachers, whether you give a few lectures, supervise one thesis a year, coordinate multiple courses, and even if you're already working on strengthening your education.
What are you going to choose: a round table discussion on programmatic assessment, one of the teaching toolworkshops to strengthen your education, a faculty educational lunch or the Wintercourse on blended learning? And how about a 'professional consultation à la carte' with an education expert for tailor-made advice for your education? These activities are spread over different university sites.
The CAT partners, including Educate-it, Educational Consultancy & Professional Development, the Teaching & Learning Lab and the TAUU lecturer community will offer workshops, lectures and webinars where you can find inspiration or work on strengthening and expanding your own teaching practice.
Take a look and register for one or more of the 28 activities!
Location
The event will take place across several locations in the city centre, the UCU campus, Utrecht Science Park and online. All Utrecht University lecturers are welcome to attend, and admission is free!
Please note: the activities are only for UU-employees.