News
Strengthen-Your-Education-week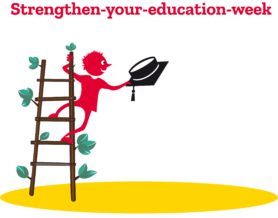 The first 'Strengthen-Your-Education-week' was held in the first week of July. Lecturers were enthusiastic about the event: "I discovered new interesting things and I came back to work with inspiration and new ideas"; "Inspiring and worth the effort. It gave me some entirely new ideas."
The week-long event was so well-received, in fact, that the organisers have decided to expand and continue the initiative with a new 'winter edition' to be held in January 2020. So if you would like some inspiration and time to strengthen your education, make sure to note the week in your agenda today!
Programme
The CAT partners, including Educate-it, Educational Consultancy & Professional Development, the Teaching & Learning Lab and the TAUU lecturer community will offer workshops, lectures and webinars where you can find inspiration or work on strengthening and expanding your own teaching practice. Lecturers are welcome to attend to work on their teaching or to learn the latest best practices! Talk to other lecturers about activating teaching formats, improve the quality of your (digital) assessments, or enhance your skills in supervising student research. And of course, there will also be plenty of opportunities to relax as well.
Location
The event will take place across several locations in the city centre, the UCU campus, Utrecht Science Park and online. All Utrecht University lecturers are welcome to attend, and admission is free!
Let us know!
Do you have an idea for a workshop or round-table discussion during the programme? Would you like to keep informed about the programme and how to register to attend? Then please let us know using this form!