Good practices
Letting students think out-of-the-box
Sanne de Jong focuses on education and innovation in the Biomedical Sciences program at Utrecht University. In the new course she developed for master students of Biology of Disease, she wants students to think out-of-the-box and therefore also changes their learning environments.
The two-week course is concerned with gaining insight into the skills that students will later need in their jobs: problem solving abilities and collaboration skills. Sanne also wants to provide students at an early stage with information about how the scientific world works and which companies and organizations play a role.
Various methods and environments
In order to achieve these learning goals, Sanne used various methods at various locations. For example, the students visited the Descartes Center, the Botanical Gardens, the Royal Netherlands Academy of Sciences (KNAW), the University Museum and the Teaching & Learning Lab (TLL). "I did this consciously, because I wanted the students to think out-of-the-box, and in order to do that I also needed to change something in their environment," Sanne says.
Inspiring space
"It is inspiring for both teachers and students to be in a different environment. When I was in the TLL and heard of all the possibilities, it encouraged me to think about how to use that in my teaching." Sanne was very pleased to be able to teach a part of the course in the TLL. It is a nice, spacious and light environment with many possibilities. And the possibility to move the furniture results in non-standard education. The wall on which you can write and place magnets on is also very pleasant.
Outside your familiar environment
Sanne wants to innovate her own teaching skills more, and wants to use the opportunities that the TLL offers. She would definitely recommend teaching a course in the TLL to other teachers, because "it's good for teachers to get out of the old familiar classroom." Sanne recommends teachers who teach at the TLL to visit the TLL well in advance to check out the possibilities. "I was pretty late myself, about two weeks in advance. If you go there earlier, you can immediately experience all the possibilities and gain ideas about how to use them in your lessons. And make sure you use the flexible furniture!"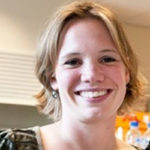 Sanne de Jong studied Biomedical Sciences and did a doctoral research on connective tissue in the heart. In collaboration with the Heart Foundation she developed the NLT module 'Heart and vessels', and now she teaches at the Biomedical Sciences and Medicine programs at Utrecht University.

Author: Miranda Overbeek (Freudenthal Institute)