News
Looking back on inspiration café – Lili's Proto Lab
During the inspiration café on March 16, we exchanged the familiar space of the Teaching and Learning Lab for Lili's Proto Lab. Jacob Seifert and Edward Paddon led us past the 3D printers, laser cutters and soldering stations to talk about all the features of the Lab, in the Caroline Bleeker Building.
Lili's Proto Lab is a place to test creative ideas and turn them into working prototypes. Lili herself, or Caroline 'Lili' Emilie Bleeker, would have been proud: after all, in the 1930s, this physicist founded her own company in scientific instruments, in order to advice on them and produce them. While the advice then was aimed primarily at laboratories, Lili's Proto Lab is now aimed at anyone at Utrecht University who wants to develop more practical skills. Seifert and Paddon explained that the main goal is to create an active learning environment: the Lab does not provide ready-made prototypes, but allows people to work on prototypes by themselves, as well as help others. This is summarized in the motto: Come. Try. Learn prototyping. Build ideas. Join the community of makers.
Peek inside Lili's Proto Lab
After this introduction, Seifert and Paddon took the group to Lili's Proto Lab. Through the large window in the corridor of the Bleeker Building, they first showed the Lab from above. Surrounded by scientific instrumentation, there was a separate room at the bottom left, where the colorful neon letters "LPL" lit up. Upon entering the Lab, they first showed all the different equipment, and then put everyone to work. The K'NEX came out, and several prototypes began to take shape. So far, no one needed any technical knowledge in order to understand the process. However, when the K'NEX objects were 3D scanned and started to appear on the computer, things got a little more complicated. Like many prototypes, the first iteration of the 3D scan lacked the desired quality but acted as a valuable learning moment. After all, you should Come, Try, and Learn in the Lab.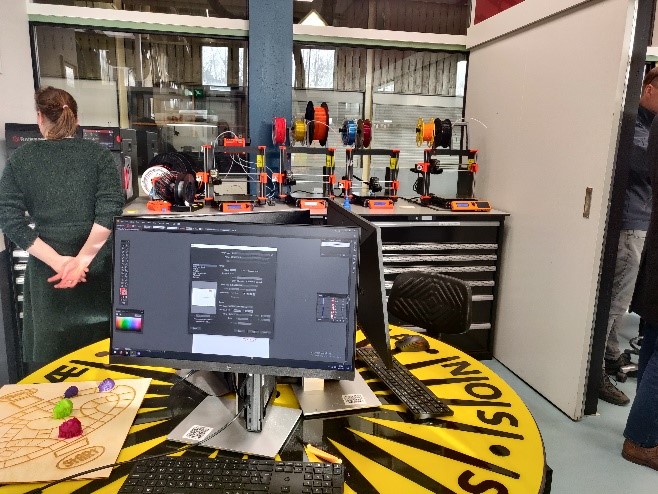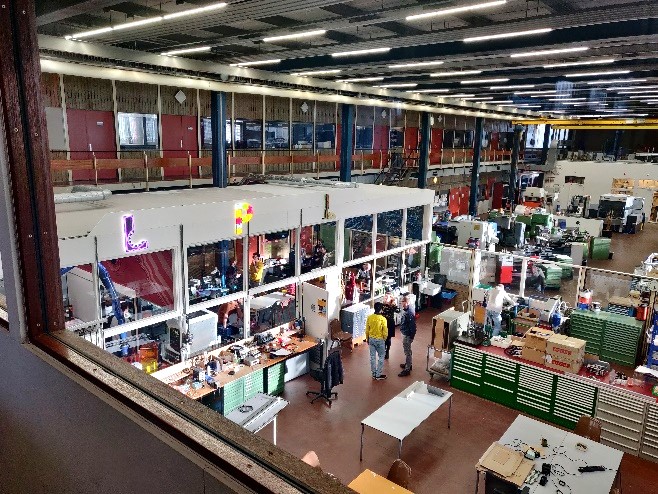 For whom?
Of course, it is fun to try this out with K'NEX, but how is the Lab used in practice? It is interesting to apply for people in the Science Faculty: for teachers, PhD candidates, and students alike. For teachers, it is an opportunity to use hardware in their teaching, and to add a practical element to challenge-based learning. For example, the lab is already currently being used in a number of courses, such as Interaction technology, and Biomimicry design challenge.
In addition, the lab is useful to PhD candidates for custom hardware solutions. This means they can create their own hardware prototype, which they can customize exactly to what they need. In addition, they can contribute to Open Hardware publications (such as HardWareX).
For students, the approach is a bit more playful. They can come to the lab to try out ideas and to learn. However, the lab can also play a role in research projects. For example, one student used the Lab's tools, resources, and expertise to build a temperature controller to use in their major research project.
Want to know more?
Interested in making your own prototype? Visit the website of Lili's Proto Lab to find the form for new projects.
Are you a teacher, and would you like to use the Lab in your courses? Contact Lili's Proto lab at lpl@uu.nl
Author: Amy van Dijk, master's student Science Education and Communication, Utrecht University