News
Students develop innovative form of history narration
Walking through Utrecht and using your smartphone to learn more about the history of the city via augmented reality: five undergraduate students laid the foundation for this during the brand new Living Pasts course. The prototype the students have developed can already be viewed online, and the idea is for other students to build on this in subsequent editions of the course.
Co-design course
Living Pasts is an interdisciplinary elective in which students are challenged to develop innovative forms of storytelling, together with local partners in Utrecht such as the Utrecht Archive. This new course – led by Ivar Troost, Simon Dirks, Frans van Dam and Toine Pieters (Utrecht University) – started in September 2019 with five students. It is a real co-design course, says Ivar Troost: "We design both the course and the end product together. Of course we carefully prepare the course as teachers, but we leave room for students to take the course in other directions."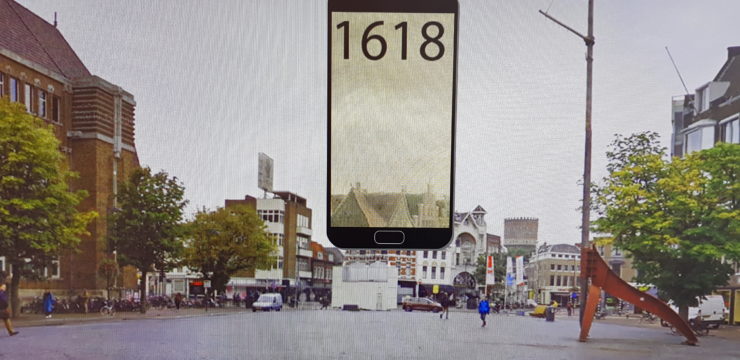 "Teams of students design products during the course, which are part of the final end product: the app for your phone. The students come from different backgrounds and disciplines, and design the products in equal collaboration with teachers and experts. Students do this on the basis of design-based research: they use academic insights, evaluate their products and communicate about them."
"For example, one of the students has written an interactive dialogue with a historical figure, based on source research. And another student group has designed the interface for the overall application."

Visualize with VR
For the co-design activities Ivar used the facilities of the TLL. The students could use the whiteboard wall to brainstorm, and the movable tables and rolling screens were ideal for group work. "Working in the TLL gives more flexibility and spaciousness. The facilities invite you to play and exercise, which I believe is crucial for a co-design course such as Living Pasts."
Because the room is easy to set up, they could even deploy a virtual reality system in no time. They used this system to visualize an old recipe for medicines. One group of students went to work with paint and a canvas, while the other group used a digital brush in the VR program Tilt Brush.
Want to teach a course in the TLL?
Ivar would certainly recommend other teachers to give a course in the TLL, provided that the facilities available in the TLL are a good match for the teaching methods that you want to use in your course. "In my opinion, the most important factor is that your course seeks to give students autonomy for the organization of their learning process. This makes the facilities not only the toys of the teacher(s), but also of the students themselves."
Author: Miranda Overbeek, Freudenthal Instituut
Translation: Nathalie Kuijpers, Freudenthal Instituut